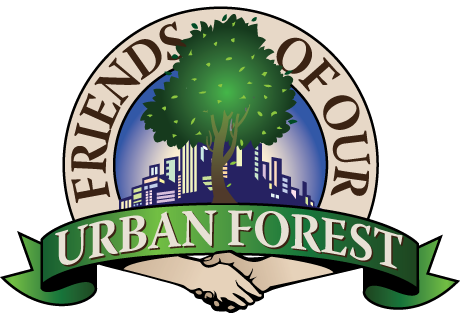 2014 Friends of Our Urban Forest Awards
Nominations for the 2014 Friends of Our Urban Forest Awards Program are now being accepted. To apply, download an entry form or apply online. Nominations are due Friday, October 31, 2014. Nominations will be accepted in the following categories:
OUTSTANDING PROFESSIONAL
Recognition of a professional individual for his or her contribution to urban forestry activities and arboricultural practices. Nominees include municipal foresters, private arborists, utility arborists, growers, and educators.
OUTSTANDING TREE ADVOCATE OR TREE ADVOCACY GROUP
Recognition of an individual instrumental in organizing or motivating urban forestry activities within a community OR recognition of an organization stimulating landscape beautification, tree planting, maintenance, preservation and/ or public educational programs within their community. For the Outstanding Tree Advocate award, nominees can include community leaders, elected officials, exceptional volunteers, local nonprofit organizers, and concerned citizens. Nominees for the Tree Advocacy Group award can include tree boards, beautification committees, garden clubs, nonprofit organizations, youth groups, and homeowner associations.
OUTSTANDING PUBLIC EDUCATIONAL PROGRAM
Recognition of a public outreach program or communication tool which informs, teaches and motivates the public on the importance of trees and the value of urban forestry activities within their communities and the state. Nominees include television programs, advertisements, public service announcements, interactive CDs, school programs, websites, and other media.
OUTSTANDING PROJECT
Recognition of a residential, commercial or public project that demonstrates tree preservation, tree planting, tree maintenance, or environmentally-sound planning or design. Nominees should come from cities, developers, landscape architects, engineers, architects, planners, builders, arborists, and landscape contractors.
OUTSTANDING URBAN FORESTRY PROGRAM
Large Communities – over 20,000 in population
Small Communities – under 20,000 in population
Recognition of a local government or agency providing exemplary leadership and vision to a comprehensive urban forestry program. Activities may include beautification, tree planting, preservation, maintenance, tree inventories, public education, unique partnerships, and other programs. Extra consideration will be given to those organizations which have been designated as a Tree City USA or have received the Tree City USA Growth Award. Nominees can include local governments, schools, military bases, and other governmental entities. Please note size of population, since awards may be given to both large communities over 20,000 and small communities less than 20,000.
LIFETIME ACHIEVEMENT AWARD
Recognition of an individual for their career-long distinguished service and dedication to the advancement of Urban Forestry.
You may submit your applications through the mail or online.